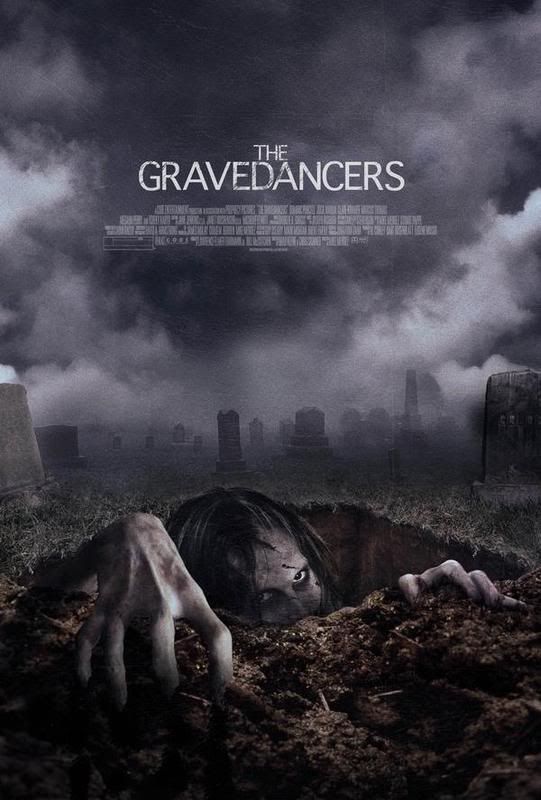 I watched this with my godbrother, Rony, a few weeks back but never got to write my review. This was a strange one. A rather strange one. Dominic Purcell stars in this horror movie as a happily married man named Harris who reconnect with two of his older friends, Harris and Kira, after another one from their group passes away. After his wife, Allison, leaves him to be with his friends, one of them being his ex, they go back later in the night to their recently deceased friend's grave and drink to him, remembering old times, etc. Later on, Sid finds a letter in which he reads from. In reality, this letter is a curse which he misinterpretations to be a letter telling them to live life up and dance. So, well... they dance. Of course later on, the three of them start to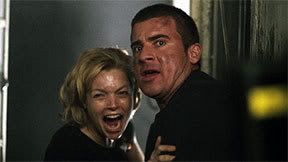 get haunted by ghosts. Harris is haunted by a creepy looking woman who plays the piano and tries to kill you with an ax, Sid by a little boy who's obsessed with fire, and Kira is haunted by a sadistic man who loved to torture women when he was alive. These ghosts were the graves that the three friends danced on.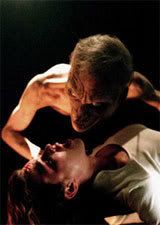 Although not particularly a great movie, there are in fact some enjoyable bits. The acting was a bit sub-par, characters I didn't feel were developed too well or the actors I just didn't care too much for although I thought Allison, played by Clare Kramer (Glory for the Buffy fans) was the more likable and believable character and Kira, played by Josie Moran, was lovely eye candy. A lot of it being a rather original script. And the make-up for the ghosts really adds to the creepiness and fun of watching. The ghosts always seem to have this extremely creepy smile to them and they just look... aww man. Sick. I read a bit of back ground on this movie and director Mike Mendez mentions how he had a dream where he was haunted by ghosts and they were smiling instead of the typical rage-ful looking monsters. That inspired their look for this movie. And I think it worked well in the movie. It was definitely the best part of the movie and a lot of the scary scenes were damn scary. I wouldn't fully recommend this film, maybe if you had nothing to do and needed to pass the time. Overall, you won't be too bored. Still some pleasing elements in the end.