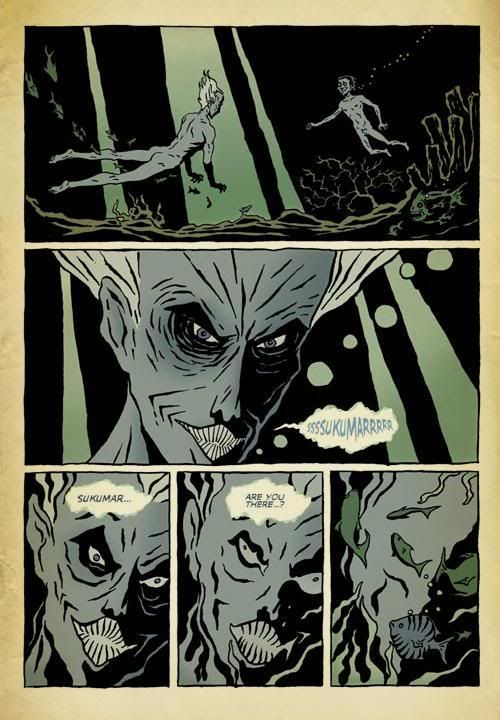 Beautifully stitched and crafted by the twisted mind of
David Hine
, we are pulled into an analysis of the human psyche in what could be described as intriguing, but of course frightening. In Hine's
Strange Embrace
we are introduced to a cast of characters who could be seen quite normal at first glance. But pull down the first layer of curtains and turn that knob on the door, and we are introduced to a world filled with love, obsession, alienation, sexual longing and perversion, pain and tragedy… Basically the essential of what makes us all human, and quite frankly – disturbed. Hine presents the littlest flaws and emotions of love and pushes each button to the point where a horror story is milked that leaves your mind tingling in both fascination and disgust.
The story is filled with so many characters that all share connections somehow to each other. We are first introduced to a teenage delivery boy by the name of Sukumar who has to deliver groceries to an old man named Anthony Corbeau, the key to this mundane and moody story. After rushing away in fear from Corbeau during a snowstorm, Sukumar is taken in by Alex, a writer whose picture should be next to the definition of "sadistic bastard." Alex is a psychic who finds pleasure in stories, but gone are the stories of fantasy and fiction – Alex likes to dwell into the minds of the people around him, peeling away at their secrets, lies, and their past, even if in doing so corrupts and drives them insane or even death. If by chance you die while Alex is going through your tortured psyche, Alex would smile on satisfaction that your story is finally completed and goes on with his life to uncover more stories for his library collection, a café literally filled ghosts. But once again, Alex is a writer, and like every writer he needs an audience. And this is where Sukumar comes unto the plot as he is mentally forced to deal with Alex and listen to the story of the old man, Corbeau, and his obsession with African art. But it is that one simple obsession with African art that presents us to his father, Edward, mother, Agnes, and eventually his wife, Sarah. Each character is filled with their own secrets and everything just slowly but surely comes to a head as eventually each of their story intertwines and interferes with each other to a surprising conclusion.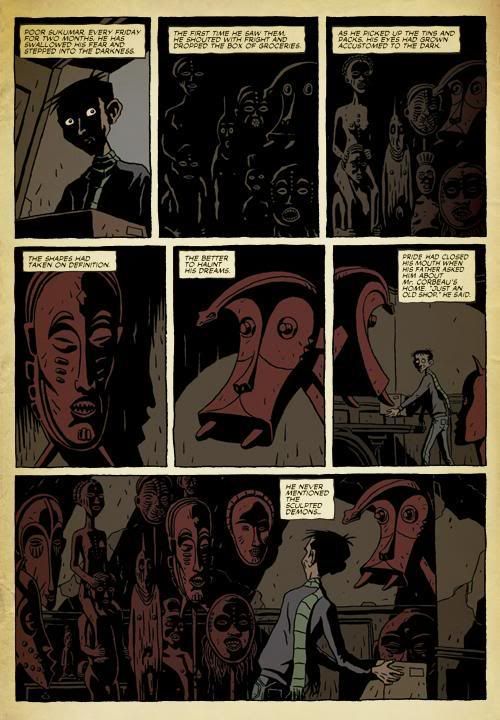 Each character is delicately crafted and at many times the characters you root for one minute now has you covering your mouth in disgust a minute later. Be surprised if you aren't driven insane by this horror story. But it isn't quite fair to continue to call it just a horror story. This is also quite a mystery story where we are constantly seeing a missing piece of a puzzle slightly placed to give us a clearer picture. This is where we, the reader, eventually becomes Alex, the sadistic bastard. Like Alex trying to uncover the life story of Anthony and everyone who surrounds him, you are going to constantly want to turn to the next page to see what happens and how far insanity can be pushed. The story will absolutely consume you.
And lets not just stick to the writing, Hine also provides the art. And if you are familiar with Hine's writing on
Silent War
,
Spawn
, or
Poison Candy
, just wait to see how twisted he could get with his artwork. With his own art style that you can most definitely call his own, panels of horror and pain will be popping up at times that you'd least expect, moments that add more tragedy to the already intense story. There's a part in the book where you are trying to uncover Sarah's story and you are drawn to a drawer that will open up a whole new secret to unravel and shock you. And another page when Sarah meets her mother-in-law. I'm telling you, all my praising of this tale gives it no justice until you read it yourself. But let me not forget the fantastic colors by
Flanimal
's
Rob Steen
. Originally
Strange Embrace
was published back in '94 in black and white by Atomeka Press and later collected into trade by
Active Images
. But thanks to
Elephantmen
's
Richard Starking
, we are presented to Hine's world in color that only draws you more into this story and both pleasantly and disturbingly locks you in a Strange Embrace. Heh… see what I did there?
So run to a local comic shop or bookstore and pick up
Strange Embrace.
You will not regret it. This book has been getting absolutely NOTHING but rave reviews from critics and this would surely be a great time to read the book that got David Hine his
Marvel
and
Image
's
Spawn
job, and
DC Comics
job (Two-Face, baby!!!) So let's jump into Hine's café of ghosts and be prepared to be held and consumed in his hold.
The order number for Strange Embrace is:
APR08 2187
retailing for: $34.99 or it can be ordered from Amazon with a hefty 34% discount at $23.09.
This edition includes the original graphic novel, written by
David Hine
and coloured by
Rob Steen
, plus four short stories, sketches, cover art and interview.